Atlanta Workers' Compensation Lawyer with 30 Years' Experience
For people who have been injured on the job, workers' compensation is a great way to obtain benefits and help pay for expenses until they have recovered and can return to work and live productively.
What happens, however, when individuals are catastrophically injured? What happens when those who have been catastrophically injured do not see a future of returning to their workplace? Such cases require the attention and skill of a dedicated Atlanta attorney who focuses on catastrophic workers' compensation and personal injury cases.
Very simply, you need to understand that catastrophic injury claims are different.
Why We're The Right Choice for You
Many people are frustrated, emotionally upset, and in great pain after a catastrophic injury. At the Law Offices of Jeffrey S. Gilbert, we completely understand that your injuries have probably evoked some very confusing emotions and resulted in overwhelming medical expenses. We are here to tell you that there is hope. Our Atlanta workers' compensation attorney supports and helps victims of catastrophic workplace injuries and defends them to the fullest extent of the law.
Highly-Reputable Atlanta Injury Firm
Not only has Attorney Gilbert obtained millions of dollars for former clients, but he is highly respected in the legal community.
Holds membership in organizations devoted to the rights of the injured: the Georgia Trial Lawyers Association and the American Association for Justice

He is AV® Rated (the Gold Standard of ratings) by Martindale Hubbell

He carries a "10" rating with Avvo

He has been named among the best attorneys in Atlanta by Legal Leaders
Dedicated to Helping Permanently Injured Victims
Attorney Jeff Gilbert co-founded the Alpine Adaptive Scholarship Program (AASP), which is a non-profit organization that works to help physically challenged men and women rediscover or experience the joy of skiing using modified equipment and special training. This work is driven by his commitment to helping victims of catastrophic injuries and enhances his ability to accurately and fully convey the extent of these types of injuries to other parties, including juries, during the legal process of negotiating settlements or fighting for compensation in court. Please visit AASP to see this hands-on work in motion.
Have You Sustained a Catastrophic Injury at Work?
According to O.C.G.A. § 34-9-200.1, which covers specific work-related injuries, the statute divides catastrophic injuries into six different categories. Under the same statute, if you have sustained some sort of catastrophic injury at work, you could be eligible for lifetime income benefits and lifetime medical benefits. Catastrophic injuries, per the state statute, are defined as any of the following:
Spinal cord injury involving paralysis of an arm, leg, or the trunk

Amputation of an appendage, including arm, leg, foot, or hand, which results in the effective loss or use of the appendage

Severe brain or closed head injury, as evidenced by:

Severe sensory or motor disturbances

Severe communication disturbances

Severe complex integrated disturbances of cerebral function

Severe disturbances of consciousness

Severe episodic neurological disorders

A condition as severe as any listed above

Second- or third-degree burns over 25% of the body as a whole, or third-degree burns up to 5% or more of the face or hands

Total or industrial blindness

Any other injury of a nature and severity that prevents the employee from being able to perform his or her work in substantial numbers where otherwise qualified
The law further states that "provided, however, if the injury has not already been accepted as a catastrophic injury by the employer and the authorized treating physician has released the employee to return to work with restrictions, there shall be a rebuttable presumption, during a period not to exceed 130 weeks from the date of injury, that the injury is not a catastrophic injury." During this period, the board may consider all relevant factors in determining whether or not the injury is to be considered catastrophic. One factor is whether or not the employee was granted disability income benefits under Title II or Supplemental Security Income benefits under Title XVI of the Social Security Act.
New Georgia Statutes May Not Fully Protect Workers
New Georgia statutes have decreased the amount of workers' compensation available for both income benefits and now medical benefits. The new act called the Georgia House Bill 154 has put a cap on the amount of time that the maximum workers' compensation benefits can be provided to injured victims. The new law adds a cap on medical benefits in non-catastrophic cases of 400 weeks.
This could be potentially devastating for individuals who have sustained severe injuries but who are not considered to be "catastrophic" under the new law. Despite what the law says, these individuals will need financial assistance while they are out of work, as well as therapy and physical rehabilitation. Some people need all of these things for the rest of their lives but may lose out on the aid that they need due to time restrictions and new definitions as implemented by the new statute.
The statute's 400 weeks of coverage for non-catastrophic injury victims may seem like a long time, but in reality, 400 weeks only adds up to just over 7 years. The only way to extend these benefits in the many, many cases that do not automatically qualify is to have your lawyer develop your case and prove that your injury is indeed catastrophic. For individuals who have been seriously harmed, seven years will probably not be enough. If you have been seriously injured, our firm can be trusted to provide you with effective legal assistance to ensure that the full extent of your injuries and required medical treatment is established in a court of law so that you can obtain the necessary compensation. You deserve maximum benefits, and with our successful track record of verdicts and settlements, you can trust that the Law Offices of Jeffrey S. Gilbert can work hard for you!
With Our Atlanta Personal Injury Lawyer, You Never Ride Alone!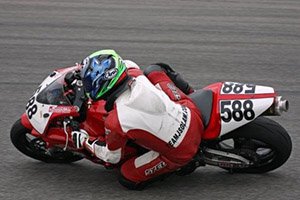 Few things can feel more isolating than a catastrophic injury after a work-related incident or a motorcycle accident. If you have sustained life-threatening injuries, it may feel as though no one can relate to your pain, suffering, or emotions of loss and disbelief. Motorcyclists who have lost the use of their legs, sustained a traumatic brain injury, or experienced another type of catastrophic injury due to an accident can feel so utterly hopeless that they do not even feel it is worth fighting for themselves. The inability to connect with people around them can make people dealing with these injuries feel helpless.
If you are a motorcyclist who has sustained catastrophic injuries in an accident, you can rest assured that you will never ride alone again when you have the Law Offices of Jeffrey S. Gilbert on your side! As a real motorcyclist himself, Attorney Jeffrey Gilbert knows how freeing it is to get on a bike and ride. Whether you are a recreational rider, enthusiast, or professional racer, he has what it takes to ensure that your injuries are compensated for by the appropriate parties. As an Atlanta personal injury lawyer, it is his goal to provide real justice for you as a motorcyclist who has been injured because of someone else's recklessness.
Why should you have to pay in blood and give up your passion due to someone else's act of negligence? You shouldn't! The Law Offices of Jeffrey S. Gilbert wants to help you move forward with your life and focus on what is truly important after a motorcycle accident – recovery and peace of mind.
Defend Your Rights to The Full Extent of The Law!
Money is not everything, and we completely understand this truth. Money can't restore a lost limb, erase your disability, and undo the loss of a dear loved one. But when you are severely injured, unable to work, or enjoy life as you knew it due to your injuries, money is necessary to provide wage replacement, medical and rehabilitation, and compensate for your pain and suffering. In short, money isn't everything, but it provides the means to restore your life to the highest level of function possible. We do not ever want to have one of our clients suffer financially due to someone else's negligent behavior. That is why our strategic workers' compensation and personal injury representation is geared to maximize the benefits of our clients – thus maximizing their peace of mind and recovery.
With more than 30 years of experience and exceptional settlements for our clients, our firm is the trusted name in catastrophic workers' compensation and personal injury accident cases. If your injury involves Social Security Disability Insurance (SSDI), we can happily help with your situation by referring you to other attorneys or non-lawyer SSDI representatives who we trust and approve of to help you handle that sort of claim effectively. We also will explore any third-party action opportunities if you have a case that involves grounds for both workers' compensation and personal injury damages. When you are ready to discuss your injury claims, contact The Law Office of Jeffrey S. Gilbert. We offer free case evaluations and take a hands-on approach to every case that comes through our firm's doors. Call today to get started on your path to recovery and peace of mind.