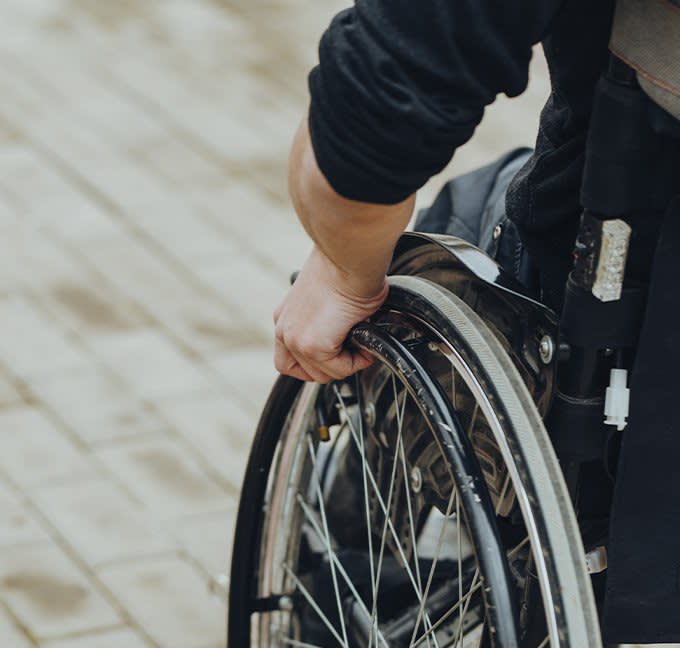 Personal Attention from an Atlanta Workers' Compensation Attorney
At the Law Offices of Jeffrey S. Gilbert, I understand that taking a hands-on approach to each and every case can yield the best possible outcomes for my clients.My approach does not merely include personal and attentive legal counsel – many other lawyers can claim to offer personal and attentive service. I believe that in order for an attorney to truly reach and affect the lives of victims of catastrophic personal injuries, they need to continuously and unselfishly give back to their community. To us, this is the true definition of personal care.
At the Law Offices of Jeffrey S. Gilbert, I take on cases of workers' compensation and catastrophic personal injury because I truly care.
If you have been injured due to the reckless actions of someone else, you need someone by your side who does not waver at the possibility of a legal complication or challenge.
You need a legal advocate who takes your personal well-being just as seriously as your financial and legal stability.
At my firm, your case is not treated as a mere case number. To do so would insult your injuries, pain, and suffering. I recognize you as a person with a unique situation. As a result, you deserve unique representation from a qualified Atlanta workers' compensation and personal injury lawyer. That is exactly what you will receive if you enlist the services of my firm.
Working in Cooperation with The Shepherd Center
As a personal injury attorney, I regularly help individuals who have suffered catastrophic injuries resulting in limited mobility. I established the Alpine Adaptive Scholarship Program (AASP), an independent scholarship program, working with the cooperation of the Shepherd Center's Beyond Therapy Program. My program has helped a number of paraplegics discover or rediscover snow skiing. Moreover, the program has done things such as donate a monoski to the Shepherd Center that was painstakingly refurbished by myself and his son, Kyle. The Shepherd Center's therapists study the physical requirements of the ski to develop specific training routines that better prepare skiers and make their time on a mountain more productive. They also use the ski to demonstrate hope to the newly injured spinal patient. I also serve as an instructor to a well-established adaptive ski program in North Carolina and regularly attend the Abilities Expo to introduce challenged individuals to the possibilities on the slope.
The AASP allows me to experience the enriching and transforming power of hands-on rehabilitation. On an entirely voluntary basis, I work with individuals who have suffered spinal cord injuries that changed their lives entirely. There are few things I enjoy more in life than seeing the sense of accomplishment exhibited by all skiers, especially beginners, after a day of conquering the slopes.
As a longtime skier, I desired to establish a program that could erase the perceived boundaries for the severely disabled. Providing an outlet for disabled victims allows them to experience the same thrills and excitements that able-bodied persons experience. Unfortunately, due to social stigmas, many people are under the misconception that disabled individuals cannot participate in the same pastimes or activities as able-bodied individuals. Seeing the sense of accomplishment in the eyes of a challenged person after a day of skiing is an achievement that I live for and that drives me to continue with these efforts.
Opportunities from Alpine Adaptive Scholarship Program
It is not uncommon for people to feel broken – emotionally, physically, mentally, and spiritually – after a life-threatening injury such as brain trauma or spinal injury. The Alpine Adaptive Scholarship Program acknowledges the feelings and emotions that many people experience after a trauma. Most importantly, the program specifically promotes the idea that individuals can transform feelings of inability and restriction into realities of capability and strength!
The AASP was established to give challenged individuals the chance to become skiers or reconnect their passion for the sport even though they may have thought it was no longer possible or within their physical reach. It also helps such individuals experience the sport for the first time. I developed the program to help victims of catastrophic injury regain, discover, or reestablish a passion for skiing as well as physical function and quality of life by utilizing innovative and accessible monoski technology. The program awards full scholarships to individuals that include up to:
Airfare

Transportation

Lodging

Individualized professional instruction

Lift tickets

Adaptive and versatile equipment
Contact the Law Offices of Jeffrey S. Gilbert for Counsel Today!
In essence, I help severely disabled victims of negligence or workplace injury recover the money needed to restore function and lifestyle. I established AASP to help participants and give them the support that they need during a time of uncertainty or doubt. It is not mandatory or necessary for lawyers to participate in programs such as these, but I have made it a point to take on a hands-on approach in this field and my community based on my passion to help.
I believe that my genuine passion for helping people transform their lives through rehabilitation and sport benefits me as much as the program's participants. Ultimately, I develop true lifelong friendships with many people involved in this program as well as many of my clients.
If you are ready to discuss your legal matters with an Atlanta personal injury lawyer who is dedicated to providing services with a hands-on approach, contact the Law Offices of Jeffrey S. Gilbert. I offer free case evaluations and am proud to represent individuals throughout Atlanta. I know that your injuries were undeserved and unexpected. You have suffered enough! Call my firm today for effective representation after an injury-causing accident.